September 03, 2012
Great Fiver Folk Fest is a wonderful music event help on the UW-La Crosse campus. It is relaxed and intimate. We enjoyed meeting so many sing-songwriters and speaking with them between the great performances. We were surrounded by people with a passion for music...people just like us.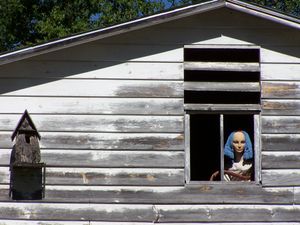 The contest took place on Sunday afternoon beneath strong arms of old shade trees. We recognized the jitters and vulnerability of fellow songwriters presenting their 2 songs for judging because we felt the sizzle of anxiety in our rapid pulse. It was truly an honor to be awarded first place! 
Since it was a folk festival, we assumed they wanted folk music. We chose Profit Line in honor of Woody Guthrie's 100th birthday year and Lily Marlene. Criteria included songwriting (composition, lyrics, melody), instrumental performance, vocal performance, and performers stage presence. 
Two days prior, Barb could barely croak. Laryngitis for 2 weeks. A steroid shot on Friday turned the tide. After the contest, we did confess to the judges in case they wanted to disqualify us for using performance enhancing drugs. 
As winners, we opened the concert that night for Harvey Reid, Pieta Brown, and Ann Reed. Yes, we told the story of Lily Marlene and Walt Wendt. During intermission a gentle man, Bob, came up to us and said "I know Wally Wendt." what a delightful cozy world we live in! 
We recommend that you schedule a trip to the Lacrosse area during the last weekend in August. Bring your lawn chairs and blankets for music under the stars!